Hey there and welcome to Currently, where we talk about what we are Currently up to and also let you share your own through the link-up below. We'd love for you to join us and add a link to your own Currently. post! It's a great way to make new friends and build community.
Thinking about: Our house, finally going on the market last night! Woohooo! I've been trying really hard not to complain, but it has been a rough few weeks. Ray has spent every weekend and even some nights after work over there fixing, cleaning, and perfecting that house (he's amazing), so we miss him and are ready to have him back. I'm looking forward to having our weekends back too.
I spend a lot of time at home alone with Emmett, so on the weekends, I really need some adult interaction and some fun, preferably outside the house. I'm looking forward to more of that in the coming weeks.
Now, we just have to sell the place.
This is our friend Paul and I "helping" Ray paint/i.e. taking selfies.
Thankful for: Emmett's sleep habits of late. When he stopped nursing, he started sleeping through the night. Or vice versa. But that wasn't until he was about 17 months, so we spent many a night over the first year and a half wide awake wishing he'd sleep better. Now that he sleeps through the night, I am not taking it for granted. He goes to bed at 7:30 and doesn't wake up until morning. Morning can be anywhere from 5:30 on, but lately, he's sleeping until 8:00. Yes, 8:00! It's incredible. This weekend Ray and I slept in right along with him, and it was glorious.
Anxious about:
Work. I started a new job last week, working from home, so I'm in the midst of figuring out how to make it all work. It feels like a lot- I have three email accounts to juggle, which is a bit of a nightmare for me. I like my email to be really organized (weirdo), so three accounts to manage is stressing me out a bit.
I laughed at myself a few times this weekend when I started to get anxious about juggling two jobs and new responsibility on top of everything else going on. When I worked full time, my job was incredibly stressful and I managed it just fine, on top of being a mom and wife and everything else. So it's funny to me now that two part time jobs is stressing me out. And I feel silly for being anxious because HELLO! I'm living my dream! I'm staying home with my boy full time, and these two jobs are making that possible. But still, it's new and I'm figuring it out and so for now, it's stressful.
Also, I feel like I've signed away my nap times and evenings and even free time on the weekends. Working from home, you don't get to just leave work behind. It's always there, and this new job is the sort of thing that I can do as much or as little of as I want. Which means I will always feel like when I'm sitting down to watch TV or going to bed early, I should really be working. I guess I just need to set some boundaries, schedule time to work each day, and allow myself free time the rest of the time. I'll figure it out. Any of you mamas who work from home have advice for me?
Looking forward to: Swimming! We took Emmett swimming for the first time this year yesterday. Ray's parents have a pool so we can pop over whenever we want. I'm so excited to get him in the water and teach him how to swim on his own. He's an adventurous little thing, but he also loves holding on to his mama, so I hope I can get him feeling comfortable enough to want to swim on his own. So fun!
I hope you had a lovely weekend as well! As always, I am joining with
A Mama Collective
to bring you this week's installment of Currently.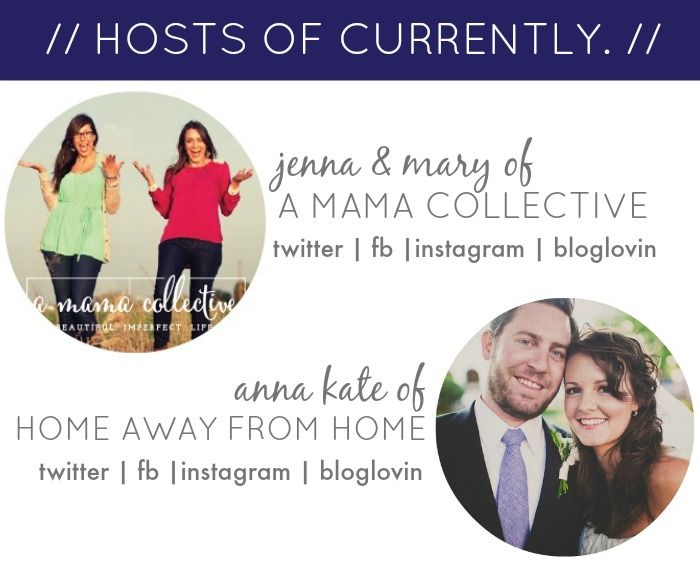 Thinking about:
Reading:
Listening to:
Watching:
Thankful for:
Wishing: (goals for the week)
Link back to this site so others can join with us, too! You can use the button below if you'd like:
If you are interested in co-hosting, please email Jenna at info(at)amamacollective(dot)com to get on the list!